Day by day, as we know that technologies are becoming very advanced, which is benefiting people all over the world, today you can talk to your friend or any person sitting at home through face calling.
Almost everyone knows about video calling, but many times you use those applications for video calling, in which good quality is not available, then in this blog we are going to talk on this topic, which application is good for video calling. in which you get better quality
This feature has a very popular one whose name and use you might know – video calling or video chat.
Today video calling has become so accessible that every person will be able to video chat with their relatives, relatives, friends and friends. made this job easy video calling apps has.
Video calling apps are those tools with the help of which we are able to facilitate video calling in full HD video quality without spending money.
Hundreds of such apps are available in App Stores but, I am here to give you only 7 Best Video Calling Apps I will give information about which are the most used and popular at the moment.
---
7 Best Video Calling Apps for Android Mobile
Facebook Messenger
WhatsApp
Telegram
Google Duo
Skype
Google Meet
Signal
#1 Facebook Messenger
Facebook Messenger is a very popular and trendy video calling app. Which is very much liked in India. This is a part of the Facebook app which is available through a separate app.
This app can be downloaded from play store for free for android mobiles. If you want to do video calling from desktop, you can do so by activating Messenger through the Facebook website.
There is no better app than this to video chat with Facebook friends. You can share not only video chat but also Text Message, Stickers, GIFs, Animations with friends.
Along with this, you can talk with friends by decorating your face with different types of stickers.
You do not have to register separately to use Messenger. You can also use Messenger through your Facebook account.
Play Store Installation – 5,000,000,000+
Rating 4 Stars
Download Facebook Messenger
#2 WhatsApp
WhatsApp was bought by Facebook in 2014. Since then its popularity has increased further. This is a popular instant messaging app in the world which is most liked in Asian countries.
But, the video calling feature of WhatsApp is also very useful and enables users to make video calls in one tap.
Its simple easy-to-use interface is also liked by the common literate people because, they do not need any special degree to use it. In just one touch, they can talk face-to-face with their relatives.
To start a video chat, you do not have to send any invite, just touch on the contact and by tapping on the video icon, video calling starts. It's that simple.
Play Store Installation – 5,000,000,000+
Rating 4.1 Stars
Download WhatsApp
#3 Telegram
You must have heard the name of Telegram and probably now it will also be installed in your mobile phone. Because, due to the privacy dispute of WhatsApp, there was a boom in the number of Telegram users.
This app is also an app similar to WhatsApp, which provides the facility of instant messaging. However, its cloud storage sets it apart from WhatsApp and other instant messaging apps.
All your data is on the Telegram server, there is no effect on the phone memory. Its video calling feature is also slowly becoming popular.
Because, the number of video chats can be up to 1000 and audio calling is unlimited. Also, you can share the screen of the device which is either missing in other apps or has to be paid for.
Apart from common users, freelancers, teachers, schools, are using it for business meetings.
App Installation – 500,000,000+
Rating 4.3 Stars
Download Telegram
#4 Google Duo
Due to being a product of Google, its number may be high but, its number of active users is less. Behind this number are Android devices which are also dominated by Google.
Well let's talk about its video calling features and experience. This app has also managed to make its place in the best video calling app.
Learning from apps like Google Hangouts, Orkut, Google has made this app very easy and fast. Users can do full HD video calling for free with clean voice.
Being a native app of Android, you get it in every Android device. Hence, the issue of availability of users gets over. You will not have to tell before doing video chat that download this app.
Apart from this, you can also record and send video messages for offline users, which is a unique feature.
App Installation – 1,000,000,000+
Rating 4.4 Stars
Download Google Duo
#5 Skype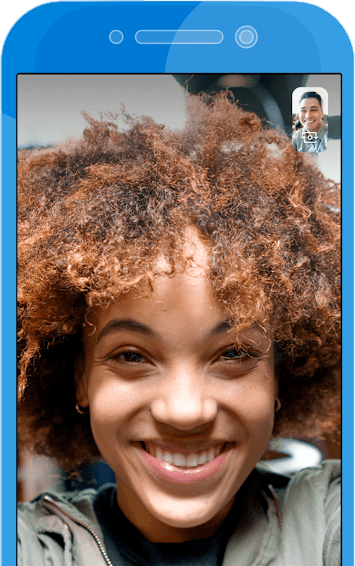 This app, which has been available on desktop for years, is available for mobile devices as well. Microsoft users are using it well and have become accustomed to it.
But, it is less popular among Android users. This popularity is less among common users. But, this name is not new for Employee and Business.
Therefore, Android users also use it. Skype is one of the best video calling apps for virtual meetings, online interviews, webinars, etc.
App Installation – 1,000,000,000+
Rating 4.3 Stars
Download Skype
#6 Google Meet
Due to being a product of Google, its popularity has been awarded only 3.9 stars. You can guess for yourself that this app is running due to the dominance of Google. Otherwise, apps like WhatsApp and Telegram will not allow it to last.
Nevertheless, this app is a suitable product for business purpose and webinars, virtual seminars because, you do not have to speak to install the app, only share the link of the meeting.
The user who clicks on the link of Google Meet joins the meeting. If the app is not installed, then Google automatically installs it.
App Installation – 100,000,000+
Rating 3.9 Stars
Download Google Meet
#7 Signal
Your data is also your wealth.
In this digital world, this is not just a proverb, but a fact that is well known to tech companies. Which they have been using for years. And also earning unlimited money.
Signal App has entered with the promise of protecting this data. This app has also been developed by the founders of WhatsApp. Who now wants to focus on the privacy of the users.
The app is not very popular yet. Therefore, you can hardly do video chat with friends.
If you want to save your personal data and care about privacy, then you can try Signal.
App Installation – 50,000,000+
Rating 4.4 Stars
Download Signal App
---
what have you learned?
In this article, I have given you information about 7 best video calling apps. You know what are the top video chatting apps for Android mobile.
Together you know how many users of the apps included in the list of best video calling apps are and how much they are liked in app stores.
I hope you like this article and prove useful to you.
Read more:-